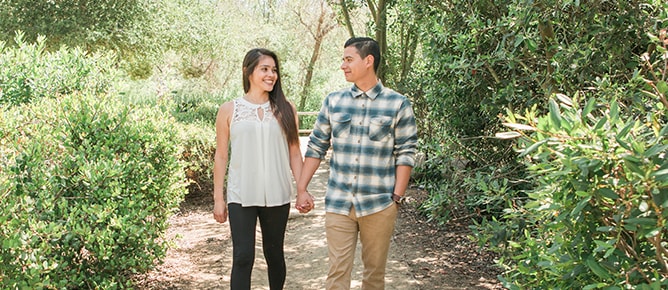 Have you been putting off straightening your smile because you're worried that braces won't fit into your busy life? Whether you want to close unsightly gaps or correct overcrowding, our San Marcos dental team can help you transform your smile without the hassles of conventional metal braces.
Six Months to a Straighter Smile
With Six Month Smiles® adult cosmetic braces, you could have the smile you've always wanted before your next dental cleaning! Six Month Smiles uses a combination of conventional orthodontic methods and state-of-the-art technology to straighten your teeth quickly, safely, and less visibly than traditional braces. Thanks to the revolutionary "shape memory" arch wires, which require fewer adjustments to move your teeth to their proper positions, this is all possible. Six Month Smiles are also more subtle and polished than traditional metal braces as they use tooth-colored brackets.
Tooth-colored brackets & high-tech wires
Average treatment time of 6–9 months
Low-force process with less discomfort
Fewer adjustments saves you time & money
Custom post-treatment retainer
Call our San Marcos, CA dental office today to schedule your Six Month Smiles consultation with Dr. Miller!
Schedule an Appointment
Invisalign® Invisible Braces

Unlike traditional orthodontics that rely on bars and brackets to straighten your smile, Invisalign® uses a series of clear, plastic aligners to gently and gradually move your teeth Invisalign is an excellent option for adults and older teens who don't want metal braces interfering with their busy lives.
If Invisalign is the right orthodontic treatment for you, your dentist in San Marcos, Dr. Miller, will walk you through the entire process prior to beginning treatment. She will take X-rays, pictures, and impressions of your teeth, and together you will come up with goals for your new smile. Based on this information, Dr. Miller will carefully plan out each step of your treatment. You will visit our San Marcos dental office approximately every two weeks to receive new aligner trays. These trays will guide your teeth into their perfect positions.
In addition to being gentle and subtle, Invisalign adult braces are also removable. You can take out the aligners for short periods of time without affecting your treatment at all. Unlike traditional braces, you'll find that with Invisalign, you can eat your favorite foods – even popcorn, apples, and corn on the cob – and brush and floss your teeth as you normally would. Once you're done, pop the aligner back in to continue the straightening process.
Everyone deserves a smile they're proud to show off, so if the cost of Invisalign has been holding you back, visit our Financial page to see our flexible financing options, or call our office to discuss financing with a member of our friendly team.
If invisible braces sound perfect to you, schedule a consultation with San Marcos Invisalign dentist Dr. Nicolle Miller!
Schedule an Appointment