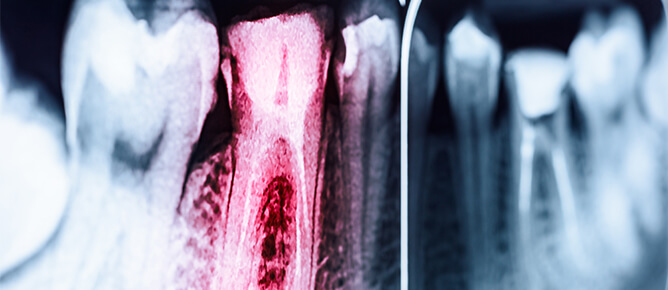 Are you suffering from tooth pain that came on suddenly? Or maybe chronic pain that has just gotten to be too much? At Mission Hills Family Dental, we can examine your mouth and determine if a root canal may be the solution to your problem. We know the thought of a root canal can seem scary – they have a bad reputation – but we make sure to keep you comfortable the whole time. If you think you could benefit from root canal treatment, call our office today to schedule an appointment.
What Is a Root Canal?
Technically speaking, a root canal is the actual canal in your tooth that contains the nerves of the tooth. The root section of the tooth is the part that is under the gumline, so it isn't visible when you just look into your mouth. If there is extensive decay or an infection deep within the tooth, we can use a root canal procedure to remove the affected tooth pulp and relieve your pain.
After we take X-rays to determine where the infection is, we numb the immediate area around the tooth. We clean out all of the root canals of the tooth to ensure we've removed all of the decay or infection. Once the tooth is cleaned out, with fill it with a medicated solution and seal the tooth to keep bacteria out in the future. We recommend having a crown placed, too, after a root canal to provide the tooth with extra strength and protection.
If you have dental anxiety, or anxiety specifically related to having a root canal, let us know. We offer sedation to help you stay relaxed throughout the treatment.
Do You Need a Root Canal?
The best way for us to determine if a root canal will help your pain is to bring you in for an exam and X-rays. If you notice any of the following signs, call our office to schedule an appointment.
Sudden pain in a specific tooth or area
New sensitivity to hot or cold
Pain when you chew or apply pressure
Dark spots on a tooth or the gums
Tender or swollen gums in an isolated area
Bad or metallic taste in mouth
How Much Does a Root Canal Cost?
We understand that suddenly having to pay for a procedure like a root canal can be a shock to your budget. Before we ever begin your treatment, we will go over your expected out-of-pocket costs and work with you to find the best payment option for you. In addition to being insurance friendly, Mission Hills Family Dental offers a variety of financing options like payment plans and an in-house membership plan to help keep the care you need within your budget.