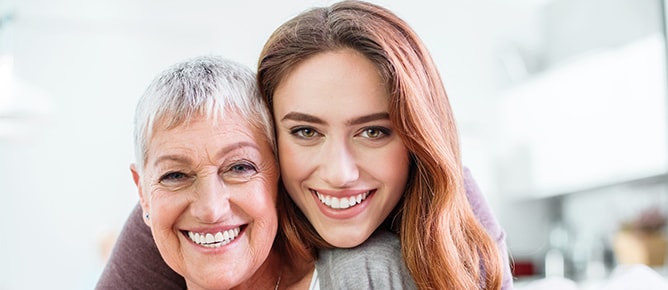 If you're missing one tooth or multiple teeth in a row, it can make everyday activities such as eating, speaking, and chewing more difficult. You shouldn't have to miss out on your favorite foods or feel self-conscious about showing off your smile. At Mission Hills Family Dental, we can help you get a full, youthful-looking smile with dental bridges.
What Is a Dental Bridge?
A dental bridge is a prosthesis that connects to your existing teeth on either side of the gap. Before we attach the bridge, we'll place dental crowns on those teeth to help support the bridge. The bridge has artificial, but natural-looking, teeth in the middle that fill in the space once the bridge is in place. If needed, we can also connect the bridge to dental implants!
Benefits of Dental Bridges
Bridges offer a variety of benefits for patients in need of tooth replacement. They can:
Complete your smile
Help you chew and speak more easily
Keep your existing teeth from moving into the open space
Maintain your facial shape
Preserve your natural bite
How Much Does a Dental Bridge Cost?
The cost of dental bridges depends on a variety of factors including the number of missing teeth, your current oral health, and more. During your consultation and examination, we'll design a personalized treatment plan to meet your unique needs. Once we've mapped out your treatment, we will provide you with an accurate cost estimate, and we'll go over your financial options. We're insurance friendly, have flexible monthly payment plans, and even have our own in-house savers plan. Our team will work with you to help you get a complete, beautiful smile once more!