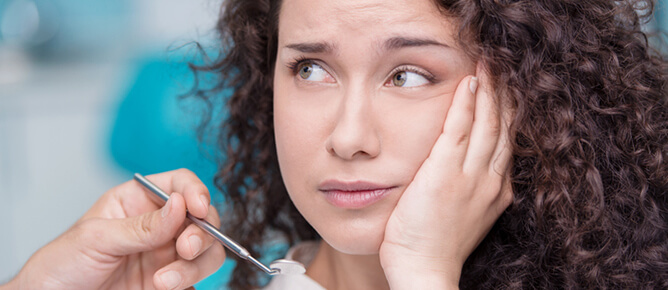 Emergencies happen when you least expect them. If one occurs, you can always count on one thing, and that's for our team to be there for you! We leave room in our schedule to accommodate emergency appointments the same day you call. We never want our patients to wait in pain. We'll do everything we can to help you as soon as possible in your time of need!
Do you have a dental emergency?
Types of Dental Emergencies
Wondering if your dental issue constitutes as an emergency? Here are some of the most common problems that may require urgent dental care. If you have any of the following, please call our office immediately. Check out our blog post to learn more!
Broken dental crown, veneer, or denture
Cracked or chipped tooth
Inflamed bump on gums
Knocked-out tooth
Loose adult tooth
Lost filling
Throbbing or sharp toothache
How to Stay Prepared
While you can't always prepare for the unexpected, you can do a few things to make an emergency dental situation easier to handle if the time comes. Here are some helpful tips for you and your family:
Always carry your insurance card just in case you have to make an emergency visit to the dentist.
Make an emergency kit with some items that may be useful, including gauze (for bleeding), sterile gloves (to handle a knocked-out tooth), salt (to create a saltwater solution to sterilize your mouth), and ibuprofen (for pain management and swelling).
Program our phone number in your phone's contacts and keep a copy on the fridge for easy access.
Research common dental emergencies and what to do in the moment if something happens.
Remember to stay calm. Dental emergencies can be scary and stressful. Staying calm can help you make the right decisions.