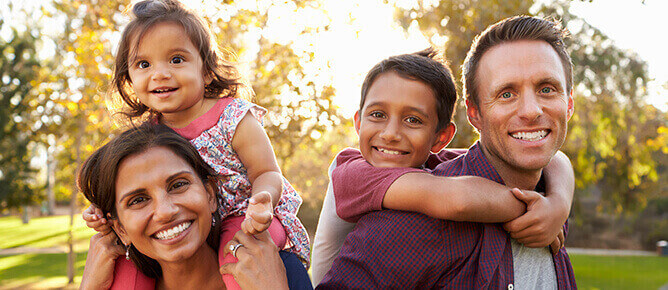 Do crooked teeth leave you feeling unimpressed with your smile or even embarrassed? At Mission Hills Family Dental, Dr. Nicolle Miller offers Invisalign clear aligner therapy to straighten your teeth and give you a beautiful smile. Unlike traditional braces, which can be bulky and uncomfortable, Invisalign clear orthodontics uses smooth plastic trays that gently and gradually push teeth into more ideal positions. Many of our patients find that Invisalign is a great option for them, so come in today for a one-on-one consultation.
How Invisalign Works
Invisalign is a convenient teeth straightening method that can help with alignment and spacing issues. To start your treatment, we'll work with you to determine the areas of your smile that need improvement and design your goal smile using computer software. We'll also take impressions of your teeth. The lab, using your new smile design and the impressions, will create your first sets of straightening trays. You'll come in for a quick fitting and go home with your trays that day.
Wear the first set of trays for at least 22 hours a day for about two weeks, and then switch to the next set. Visit our office around every 4-6 weeks for a quick check-in and to receive your next trays. Over the course of about a year, you'll see your teeth become straighter until you've achieved your ideal smile. To learn more about how Invisalign® compares to other clear aligner treatments, check out our blog post here.
Benefits of Invisalign
Clear trays are barely noticeable
Smooth plastic material doesn't irritate cheeks or gums
Removable trays mean no food restrictions
On average, treatment time is shorter than traditional braces
Visit our office only every 4-6 weeks
Cost of Invisalign
You shouldn't put off getting a healthy and beautiful smile because of cost concerns. At your consultation, we'll go over your expected treatment costs and discuss your financial options. In addition to being insurance friendly, we have an in-house savers plan or can set up monthly payments to break up the cost of your treatment. Speak with one of our friendly team members to learn more.
Does it hurt to wear Invisalign aligners?
The first couple of days that you wear your clear aligners, you may experience some soreness and discomfort. This is perfectly normal, and it just means that your teeth are already beginning to shift into straighter positions. You will eventually adjust to wearing your clear aligners, but in the meantime, we recommend taking over-the-counter pain medication, eating cold foods, and applying dental wax to particularly sore spots.
How do you take care of clear aligners?
It's important that you keep your aligners clean so that they can remain as clear and discreet as possible. You should clean your aligners with antibacterial soap and a soft-bristle toothbrush twice per day and avoid washing them with hot water, as it can warp the custom shape of the aligner. You should practice good oral hygiene as well, and always store your aligners in their case, so they aren't lost or thrown away.
Do you have to wear Invisalign aligners every day?
Not only do you have to wear clear aligners every day and night, but they should ideally be worn as often as possible, or any time you are not eating, drinking, or brushing your teeth. This is because your treatment plan can be thrown off track if the aligners don't have enough time to straighten your smile, and the teeth can actually begin shifting back to where they were if you completely stop wearing them.