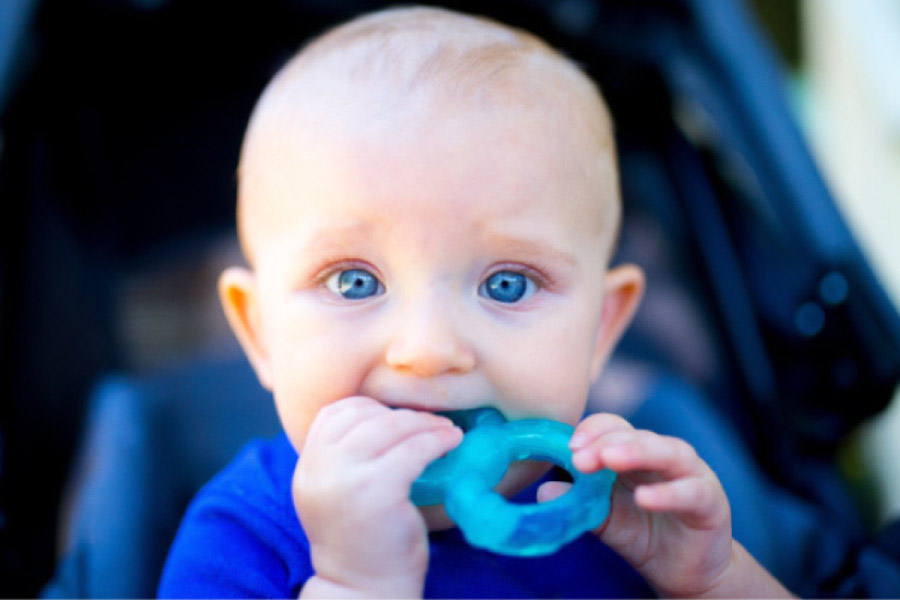 While some babies are born with their first teeth, most babies start teething between 4-12 months! This process can be very painful for babies, especially when their largest teeth, their molars, begin to erupt. What do you do when your baby is teething?
Rub Their Gums with a Wet, Cool Washcloth
Your baby's gums get sore when they teeth. Dampen a washcloth with cool water and stick it in the fridge for a few minutes. This cools the cloth, which soothes your baby's uncomfortable gums. You can rub the washcloth on their gums or let them chew it, though you should always supervise them so they don't try and swallow it.
Try a Teething Ring
There are lots of teething rings and toys on the market. You want ones that are small enough for your baby to hold, but not so small they might swallow them. To keep them cool, use the fridge, not the freezer. Freezing teething rings make them too cold, which can hurt your baby's mouth.
Ask Your Doctor About Tylenol
If your baby is in a lot of pain, Tylenol can provide relief for 1-2 days. You should always ask your baby's doctor first and follow all dosing instructions. Tylenol is generally safe for babies over 3 months old. Babies under 6 months should not take ibuprofen unless recommended by their doctor.
Avoid Topical Gels & Teething Tablets
In 2018, the FDA began taking action on topical teething gels because they contained benzocaine, a potentially dangerous ingredient for babies. Many homeopathic tablets have also come under fire because of belladonna, which is toxic. For your baby's safety, it's best to avoid topical gels and teething tablets.
Bring Your Baby to the Dentist As Soon As They Get Their First Tooth
As soon as your baby gets their first tooth, it's time to introduce them to the dentist. We'll take a look at your baby's mouth (if they let us!) and ask you about their eating habits. The first appointment is usually very short since we're just getting to know your baby and establishing a baseline for their oral health. If your baby hasn't gotten their first tooth by their first birthday, they should visit the dentist anyway.
Children's Dentistry at Mission Hills Family Dental in San Marcos, CA
Teething can be very uncomfortable for a baby, but with your help, they can get through the process! At our office, we want all kids to have a pleasant, stress-free experience. Dr. Miller and the team are happy to offer services like cleanings, protective dental sealants, fluoride treatments, and more. Please contact us to set up an appointment!
Contact us to schedule your baby's first dental appointment!
Contact Us